Rhode Island Car Accident Lawyer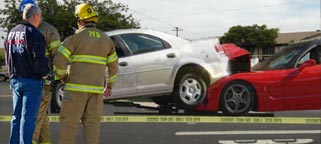 Recovering maximum compensation when you have been in a car accident requires more than simply filing a claim. You may face different barriers depending upon how much insurance coverage the at-fault party has or which state has jurisdiction over your claim.
At the Law Office of Richard Gallone, P.C., we provide compassionate, friendly and skilled legal representation for individuals who have suffered any type of motor vehicle accident injury.
Beyond the basic questions of adequate coverage for past and future medical bills, lost wages, and pain and suffering, we also help our clients deal with unique considerations, like:
Mandatory auto insurance requirements in Massachusetts versus Rhode Island
Uninsured and underinsured motorist claims
Coverage for property damage versus bodily injuries
Vicarious liability (if someone borrowed your car and caused an accident)
Third-party claims arising out of work-related (workers' compensation) injuries, such as if you were in a car or truck accident while working)
Compensation From Every Possible Source
Depending on the circumstances of your accident, there may be more than one source available to recover compensation for your injuries and damages. Whether you were hurt in a car accident, truck accident, motorcycle accident or other type of motor vehicle incident, with extensive knowledge of insurance coverage and insurance policy language, attorney Richard Gallone will look for all possible sources of recovery to get you all the money you deserve.
Here To Help You
Learn more about how the Law Office of Richard Gallone, P.C., can help you when an insurance company fails to give you what you deserve. We offer free initial consultations and represent clients on a contingent fee basis. You pay no lawyer fees until we are successful and recover compensation for you.
Contact our office in Warwick, Rhode Island, online or by telephone at (401) 737-0500 to schedule a consultation.