Rhode Island Motorcycle Accident Lawyer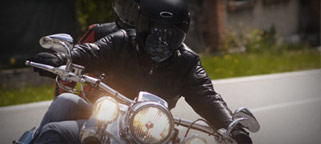 Motorcycle drivers are especially vulnerable on the road, and as a result, many of them are far more defensive and cautious drivers than people realize. Still, no matter how careful you are as a motorcyclist, you can still end up with life-altering injuries, even if you are involved in a low-speed and relatively minor automobile accident.
At the Law Office of Richard Gallone, P.C., we understand how devastating an unexpected injury can be, especially those related to a motorcycle crash. Whether you have suffered a head injury, road burns or broken bones, or have lost a loved one in afatal accident, an attorney at our office can help you get the compensation you deserve.
We handle all types of motorcycle accidents. Motorcycle accidents are often caused by:
Poor visibility, blind spots and driver error: The size of a motorcycle makes it more difficult for automobile drivers to spot. But this is not the motorcyclist's fault. Drivers need to remain vigilant and check blind spots to prevent collisions.
Hazards on the road: Road conditions, such as the presence of potholes, debris or excessive sand on the road, are particularly dangerous for motorcyclists. Even if they are able to avoid the obstacle or condition, sudden movements to avoid hazards can easily cause an accident and injuries.
Stability, swerving and being cut off: Aggressive drivers who weave in and out of traffic too quickly are especially dangerous for motorcycles. A motorcyclist must be given ample time to adjust speed and direction. If a reckless driver is being careless in traffic near a motorcyclist, serious injuries can easily result.
Demonstrating Fault In A Motorcycle Crash
We use state-of-the-art methods and expert accident reconstructionists to help prove negligence that caused your accident, to make sure the at-fault party and his or her insurance company is held responsible for all the damages and injuries you suffered.