Rhode Island Truck Accident Lawyer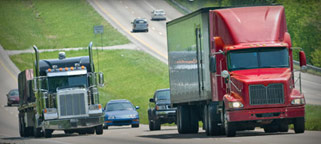 Some of the most devastating automobile accidents involve 18-wheel tractor-trailer trucks. They are often travelling at high speeds on the interstate expressways, and their size and weight alone can turn even a low-speed collision into a life-altering catastrophe.
For these and other reasons, commercial truck drivers are required to have a special operator's license and trucking companies are held to strict safety standards on the road. Commercial drivers are restricted in the number of hours they can drive each day, and they must be given adequate breaks to prevent driver fatigue. Freight must be properly loaded and secured, and equipment must be thoroughly maintained and routinely inspected to ensure the safety of others on the road.
Unfortunately, trucking accidents do happen, sometimes as a result of simple driver error, and sometimes due to pervasive negligence on the part of an employer.
If you or someone you care about has been involved in an accident with a commercial vehicle, or if you have lost a loved one in a fatal truck accident, you need experienced representation that can take on the at-fault party, or parties, aggressively with a focus on obtaining maximum compensation for your injuries and damages.
Understanding Insurance And What You Deserve For Your Injury
Attorney Richard Gallone leads our personal injury practice at the Law Office of Richard Gallone, P.C., with more than 30 years of experience arbitrating, mediating, settling and trying injury cases in both Massachusetts and Rhode Island. While he is devoted entirely to plaintiff representation, a portion of his career was spent in insurance defense. This valuable experience has given him an intricate understanding of how insurance companies value and settle personal injury claims.
He knows the factors insurance companies use to value your injury case and the tactics and methods they will use to try to settle with you for far less than what your case is actually worth.
Our team of experienced professionals will work with you to investigate the details surrounding the manner in which you were injured to establish liability when it is disputed, and then persuasively present the necessary medical and other evidence that justifies maximum compensation for you.
Contact an attorney at our office in Warwick, Rhode Island, to learn more about how an experienced lawyer can help. We can be reached online or by telephone at (401) 737-0500.