Rhode Island Wrongful Death Lawyer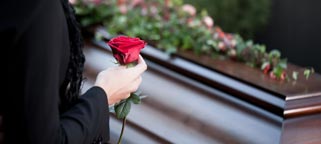 Intentional or not, you have lost a loved one. No amount of compensation can change that, but it can help ease the financial burden you and your family will face as a result. We can help you get what you deserve after a fatal accident has changed your life.
Comprehensive Experience And Knowledge That Gets Results
At the Law Office of Richard Gallone, P.C., in Warwick, Rhode Island, we represent clients throughout Rhode Island and Massachusetts who need help recovering maximum compensation in wrongful death claims. Our practice is devoted entirely to plaintiff personal injury law.
Attorney Richard Gallone's career has spanned more than 30 years, and during seven of those years, he worked for several different insurance companies as an insurance defense attorney. As a result, he is familiar with tactics and methods used by insurance companies to try to minimize the amount of compensation they pay to injured people. This helps him better prepare for cases and aggressively pursue compensation for his clients who have lost a loved one in a fatal car accident, a work-related death, or any other type of accidental death case.
Wrongful death cases are usually complicated and often require opinions from multiple experts with different areas of specialization, from medical doctors to engineers to accident reconstruction experts. The Law Office of Richard Gallone, P.C., will give you honest, aggressive and skilled legal representation of your wrongful death claim leaving you free to recover from your loss.
Working With You Personally
No matter how involved you are in your case, you can be sure Mr. Gallone will be acting aggressively in your best interest, pushing back against insurance companies when they attempt to undervalue your claim and negotiating with them when it is favorable to do so.
We strive to provide friendly, courteous and professional service to all our clients. We respond to all telephone calls promptly, and you will always know the status of your case. Contact an experienced Warwick wrongful death attorney at our office online or by telephone at (401) 737-0500 to schedule a free initial consultation.
Personal injury and wrongful death cases are handled on a contingent fee basis, so you pay no lawyer fees until we get you the compensation you deserve.