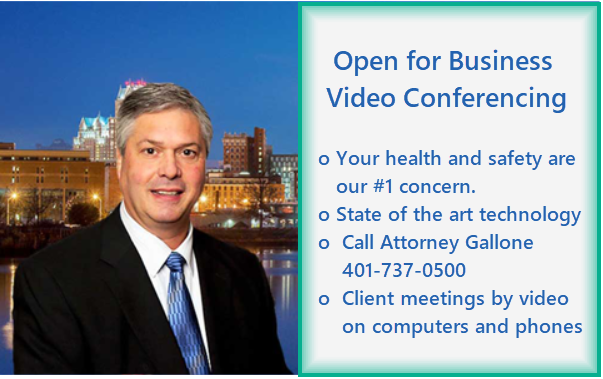 Five Steps If You Are In A Car Accident:
1. Get to a safe place away from moving traffic.
2. Call the police.
3. Gather information including: driver's licenses, registrations, and insurance.
4. Take photos of cars and damage.
5. Call an attorney and have him handle the insurance companies.

Warwick Rhode Island And Massachusetts Personal Injury Lawyer
Skillful And Aggressive Legal Representation
When you or someone you care about is injured in an accident, you want a friendly, knowledgeable and aggressive law firm to handle your case and negotiate with the insurance company to obtain the largest possible settlement in the shortest amount of time.
Whether you have been injured in a car accident, motorcycle accident, truck accident or slip/trip-and-fall, have suffered a burn, have been injured by a defective product, were hurt on the job and have a workers' compensation case, or have had your health compromised due to medical, dental or nursing home negligence, we can help.
When you contact the Law Office of Richard Gallone, P.C., located in Warwick, you will be able to:
Expect more from your lawyer.


Personal injury attorney Richard Gallone leads our Warwick law firm with more than three decades of experience arbitrating, mediating, settling and trying all types of personal injury cases to a verdict. He knows how insurance companies value cases and the tactics they use to try to minimize your recovery. Honesty, integrity and hard work are the cornerstones of his success. As a former Rhode Island Superior Court law clerk, he is experienced and successful in the courtroom, and that is one big reason why insurance companies will often settle with him out of court. Whether you have minor injuries or major injuries, the Law Office of Richard Gallone, P.C., is here to help you get the most amount of money for your injury.

Expect more money in your settlement.


When you're hurt through the fault of another, you may be entitled to compensation for your lost wages and temporary or permanent impairment of earning capacity, past and future medical bills, scarring and disfigurement, loss of enjoyment of life, and of course, pain and suffering. Under certain circumstances, a claim can also be made by your spouse for loss of consortium damages. Insurance companies will not offer you the full value of your case without representation from an experienced lawyer who is not afraid to take matters to court when necessary. With more than 30 years of experience, we have a long record of success and that is why many of our clients return and refer their friends and family members to us.

We'll do all the work ...


So you can focus on recovering. Once we represent you, the burden of gathering hospital and medical records, processing medical bills, pursuing compensation and negotiating a satisfactory settlement for yourself is put on our shoulders. We will guide you through this complex process, answer your questions and take on tough opposition so you can focus on what matters most — your health and well-being.
Free Legal Consultations| No Legal Fee Until We Win Your Case
There are no upfront fees or charges to getting the representation you need when you have been injured. At the Law Office of Richard Gallone, P.C., cases are handled on a contingency fee basis. Our legal fee is contingent upon a successful result. Have your questions answered by an experienced personal injury lawyer today.
Contact our office in Warwick, Rhode Island, by email using our online contact form or by telephone at (401) 737-0500. Attorney Richard Gallone is licensed in state and federal courts throughout Rhode Island and Massachusetts.
Testimonials
When I got rear ended this past spring in my brand new car, I was highly upset. After I found out the driver who had hit me was unlicensed, uninsured, and driving an unregistered vehicle, my concern and stress quickly escalated. I was unsure who would be responsible for the damages to my vehicle and who would pay for my medical bills, as I had sustained injuries to my back.

When I contacted Attorney Gallone, all my worries were immediately alleviated. He handled my case from beginning to end and kept me updated every step of the way. He made the process so simple. He handled every aspect of the accident and ensured I did not have to pay for anything out of my pocket. I highly recommend Mr. Gallone to anyone in the Rhode Island/Massachusetts area.

Paula M.

When my wife got injured at work I called Richard Gallone

He got me a fair settlement more quickly than i would have a thought, but the part that really sold me, was his personal availability. I like the fact that he did the work himself and was always easy to reach.

Thank you very much!

Jeff P.

Richard Gallone recently represented me after I was involved in a car accident. He was professional and passionate about his work and his clients. He truly wants to help his clients and it shows!

He took care of everything and kept me updated as well. It was such a smooth process and in the end I won my case. I would highly recommend Attorney Gallone!