Rhode Island Premises Liability Lawyer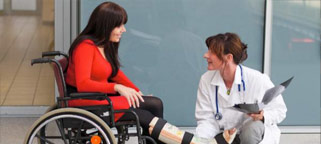 Individual homeowners, landlords and business owners are required to maintain their property in a reasonably safe condition for those who enter their property. If they fail to do so, and someone gets hurt, the property owner can be held liable for damages.
These issues are typically seen in apartment complexes, supermarkets and parking lots where property is maintained by someone other than the individuals who frequent the land or building, but they can arise in residential homes as well.
One of the biggest obstacles to recovering personal injury compensation for a premises liability claim involves demonstrating negligence on the part of the property owner. The injured person must be able to show that even while exercising reasonable caution, he or she was injured by a defect or an unusually dangerous condition on the property.
At the Law Office of Richard Gallone, P.C., we provide skilled and knowledgeable legal representation for clients injured by a defective condition or unreasonably dangerous condition on someone's property throughout Massachusetts and Rhode Island. These cases typically involve:
Slip-and-fall or trip-and-fall accidents caused by uneven sidewalks, slippery surfaces, potholes, poorly lit walkways or inadequate caution signage.
Animal attacks and dog bites caused by failure to leash or restrain a domesticated animal.
Negligent security and injuries related to broken window locks, broken door locks, exit sign failure, smoke detector or carbon monoxide detector malfunction, or even injuries sustained in assaults.
To arrange a free initial consultation with an experienced attorney, contact our office in Warwick. Premises liability lawyer Richard Gallone can work with you one-on-one to develop a legal strategy that helps you get what you deserve, through either direct settlement negotiations or aggressive representation in court.